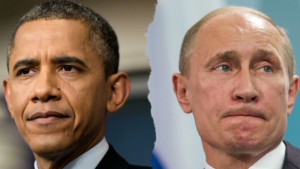 military strike, President Vladimir Putin said Friday, as three naval ships headed to the eastern Mediterranean to bolster the countrys fleet near the Syrian coast. Will we help Syria? Yes, we will, Putin said in response to a journalists question at the conclusion of a Group of 20 summit in St. Petersburg. We are helping them now. We are supplying weapons, cooperating in the economic sphere. President Obama used the meeting of world leaders to press his case for punitive strikes against the government of Syrian President Bashar Assad for a reported Aug. 21 chemical attack on pro-rebel suburbs of Damascus. He met with Putin for about 20 minutes Friday, but failed to persuade the Russian leader, a close Syria ally. We both remained unconvinced by each others opinion, Putin said at a news conference. But there is a dialogue. We hear each other, we understand arguments, but we dont agree with them. On Thursday, Kremlin Chief of Staff Sergei Ivanov said Russia was increasing its naval presence in the eastern Mediterranean in case of a possible evacuation of Russian citizens from Syria. About 8,000 Russian nationals have registered with the countrys diplomatic mission in Syria, although the actual number in the country is believed to be significantly higher. The three ships en route to the region include two amphibious landing vessels, the Novocherkassk and the Minsk, and the Priazovye reconnaissance ship, the Interfax news agency reported Friday.
Russia bolsters naval presence near Syria, will continue to aid Assad
Syria: Is chemical warfare for real? The backdrop to the G20 economic summit is Obama's international campaign to begin limited bombing of Syria for the regime's alleged use of chemical weapons against its own people in a civil war. Putin hasn't been quick to embrace U.S. assertions that Syrian President Bashar al-Assad's government is using chemical weapons. Putin wants high proof that Assad — an ally of Russia — has indeed engaged in such warfare. Putin called the chemical weapon allegations "absurd" because he said the Assad regime holds the upper hand over rebels. The skepticism is powerful because Russia is a permanent member of the United Nations Security Council and, if the United States and its allies seek U.N. approval to bomb Syria, Russia can veto such a resolution. Russia has invoked that power repeatedly the past two years. On Wednesday, the eve of the G20 summit, Putin said he "doesn't exclude" supporting a U.N. resolution for military force against Syria — but only if there's irrefutable proof of chemical weapons use by the Syrian government.